Fall 2018 Daikin Ductless Rewards Program
Retail Sales Personnel can earn cash rewards on qualifying ductless systems purchased and installed between September 17, 2018 and November 30, 2018. Eligible products and their associated reward amounts are detailed in the chart below. Past participants will be automatically enrolled on SalesRewards, and do not need to complete a new profile. Please note that complete systems are required in order to be eligible for rewards. Eligible sales may not be combined with other offers.
Qualifying Products and Reward Amounts: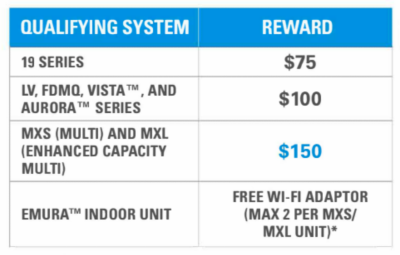 Dealers will file the dealer rewards claim with Sales Rewards, including all necessary documentation, at www.SalesRewards.cash Please see the Program Overview (available on Showpad) for complete details and instructions on how to submit claims. Claims and supporting documentation must be received by December 15, 2018. Contact your local branch or sales rep for any questions.
SHOP NOW